Traveling in 2021. is still marked by the safety concerns, so the World Travel and Tourism Council (WTTC) set the Safe travels label to inform the passengers which destinations and companies adhere to highest health and hygiene standards. The label was awarded to the Royal Dubrovnik Resort, whose staff is systematically educated to cope with the challenges brought by Covid 19.
Royal Dubrovnik Resort's efforts were recognized by the Croatian Ministry of Tourism and Sports. It awarded the Resort with the Stay Safe in Croatia label, which guarantees the adherence to the highest safety standards, which are regularly screened.
Your Safety
Arrival
The staff will measure your temperature before check- in and make sure to minimize the length of the contact and to keep the safe distance between all the guests and staff. Each guest will receive a Safety kit with disinfectant and a brochure explaining safety measures and recommendations. You will be advised on how to safely use the restaurants, wellness, swimming pools and other common areas. Our friendly and trained staff will always be at your disposal for further information.
How do we serve food?
Depending on the hotel occupancy level, the staff will pre-arrange the optimal time slots for meals with you, so as to keep the number of people in the restaurant at a safe and optimal level. The food at the buffet will be protected by a buffet sneeze guard partitions which greatly reduce the human contact with the food. Dining tables will be positioned at the safe distance from each other. A particular table will be set up upon the guest sitting down, and will be disinfected after each use. You will find our staff wear the protective equipment, and you will be offered with a disposable one-time use menus or QR codes.
On our Hygiene Standards
All indoor spaces are regularly disinfected, especially the surfaces that are often used by the guests (elevator buttons, handles, switches, remote controls, handrails, armrests….). Rooms and air conditioners are disinfected after each check out. The highest quality products and standardized hospital disinfection procedures are used, and all employees undergo rigorous training to adhere to them.
To plan a safe and relaxing holiday, please visit a comprehensive guide published by the Croatian National Tourist Board and read about the testing locations, flight availability information and other health related measures.
A detailed step-by-step guidance for entering Croatia, customized to your country of residence, please visit the Enter Croatia platform by clicking here.
request personalized offer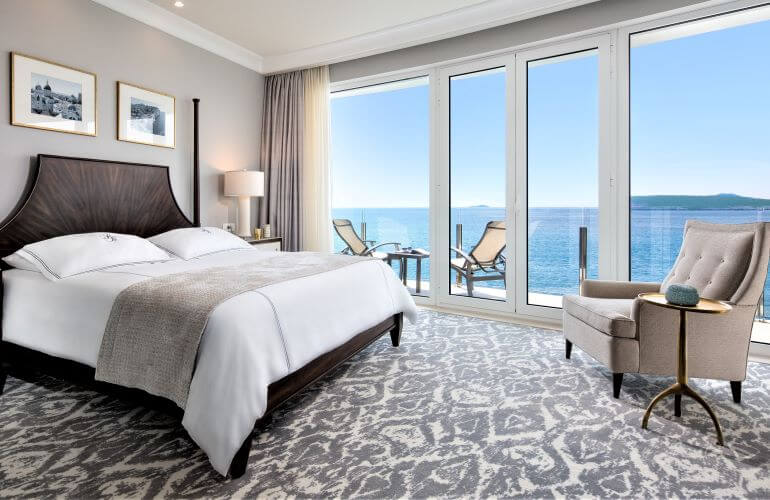 Top Floor - Sea View
The best sea views are guaranteed when booking the Royal Executive room type.
SEE MORE