A long coastline, Mediterranean climate, waterfalls and more than 100 islands, Croatia is now welcoming digital nomads from outside the European Union (EU). This exciting news comes during the coronavirus 2020 pandemic, which saw an increased number of people work from home as social distancing measures were put in place. Croatia had announced this news in early December 2020 to take effect on January 1st 2021 (Expat in Croatia, 2021).
So, what is a digital nomad exactly and how can you become one?
Well, it's simple. A digital nomad is someone who is a third-country national and works remotely through digital means a company that is not registered nor does perform work in the Republic of Croatia (Republic of Croatia, 2021). This visa can be granted for up to a year and is not extendable, although, the alien can re-apply after 6 months of its expiry. Furthermore, close family members of digital nomads are also granted a visa for family reunification purposes(Republic of Croatia, 2021). To be considered an applicant, you must submit valid travel documents, as well as health insurance and proof of no criminal offenses, to name a few. The Republic of Croatia also wants proof of income from your job (a minimum monthly salary of HRK 16,907.50.) and a bank statement to prove you have a minimum of HRK 202,890.00 available in your account if you plan on staying in the country for 12 months (Republic of Croatia, 2021).
What does Croatia offer for digital nomads?
Those who successfully apply for a digital nomad visa in Croatia are granted a one-year residency and are not subject to Croatia's income tax. That being said, they must not provide services to Croatian businesses (Republic of Croatia, 2021).
Our Royal Treatment
Royal Hotels & Resort invites digital nomads in Croatia to visit the Pearl of the Adriatic and have a taste of what it is like to live in Croatia's most magical city. We are offering special perks to our digital nomads.
For stays 21 days and longer, we offer a complimentary half-board dinner included in the rate. We also guarantee the most competitive online rate for direct bookings.
Your Next Step ?
Get in touch with us directly at reservations@royaldubrovnik.com, +385 (0)20 440 122 or fill a contact form to make your arrangements.
Works Cited
How to apply for the digital NOMAD residence permit in Croatia. (2021, March 18). Retrieved March 24, 2021, from https://www.expatincroatia.com/digital-nomad-visa-croatia/
Temporary stay of digital nomads. (n.d.). Mup.Gov.Hr. Retrieved March 24, 2021, from https://mup.gov.hr/aliens-281621/stay-and-work/temporary-stay-of-digital-nomads/286833
request personalized offer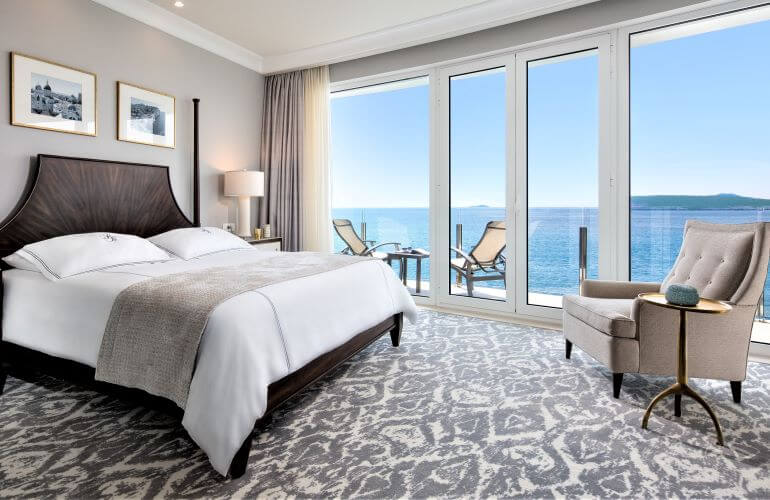 Top Floor - Sea View
The best sea views are guaranteed when booking the Royal Executive room type.
SEE MORE