Be the star of your own story and  dine outdoors at sunset in a perfect occasion for two.
Treat your palate to gourmet, local seafood delicacies prepared by restaurant La Castile's master chefs.  Sit down for a fabulous dining experience, while enjoying one of the most beautiful views of the Adriatic Sea and sunsets in all of Dubrovnik.
Highlights: privacy and comfort of the open-door areas, less crowds and sunset dining experiences
This is your own tailor made dining journey – you get to choose your own appetizer, main course and a desert.  The choice of the main course determines the total à la carte meal price. 
home-made tomato basil soup with buttery croutons
gnudi (gnocchi made from cottage cheese)
seabass carpaccio
gourmet beef burger (home-made beef patty in a brioche, tomato jam, lettuce, tomato, pickles) – 150 kn
tuna steak (tuna steak served with Black pepper, parsnip puree, and shallot confit in Port Wine) – 265 kn
braised short beef ribs (beef ribs cooked in wine sauce, potato, summer porcini mushrooms) – 225 kn
home-made black spaghetti (home-made black spaghetti, squid, shrimp, parmesan foam) – 145 kn
linguine with duck ragout (home-made linguini with ragout of slow cooked duck) – 155 kn
veal ribeye (baby potato with rosemary & chanterelle mushroom sauce) – 270 kn
creamy pumpkin risotto (rice, pumpkin, truffles) – 150 kn
chocolate lava cake (served with our home-made forest fruit sauce & creamy vanilla ice cream)
lemon tart (served with mascarpone & honey cream)
sorbet (our home-made sorbet made with seasonal fruit)
The offer may be used within the following periods:
May 1st – June 15th
October 1st – October 31st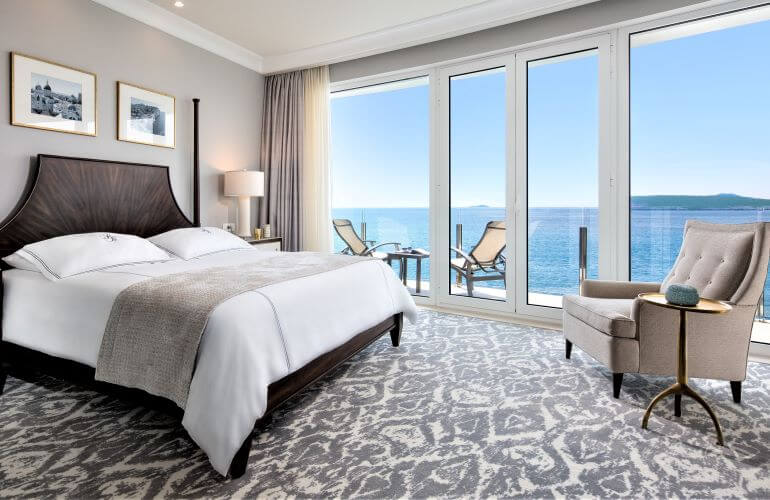 Top Floor - Sea View
The best sea views are guaranteed when booking the Royal Executive room type.
SEE MORE